If you've found yourself in the predicament of losing your job or getting laid off due to lockdowns – or other unforeseen circumstances – then it's time to turn lemons into lemonade. Now is the time to get a business setup online, but if you have never done it before, it can seem like a big undertaking. Fear not, here you will learn how to launch an online business in one weekend!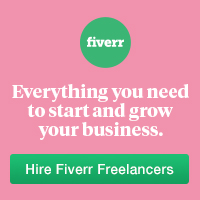 Instead of trying to do it all yourself, especially if you are inexperienced, then the best way to do this is by outsourcing. Outsourcing is when you hire freelancers to do one-time projects for you, without the commitment of putting the individuals on a weekly payroll. There is no better website to find freelancers than on FIVERR.
In case you haven't heard of FIVERR, it is a mecca for services offered by skilled professionals. You can find literally any type of freelance service on FIVERR. The gig-based setup is brilliant, as it allows you to browse through the freelancer's profiles, read reviews, look at their portfolio, and in some cases, you can watch a video or listen to samples.
How to Launch an Online Business in One Weekend (Or Less)
There are websites that you can find freelancers for specific projects, however, going straight to FIVERR will save you a ton of time. So, if you really want to launch an online business in one weekend, then you can set up multiple gigs with different service providers simultaneously. In contrast, if you use a service such as Upwork or a niche website, it could take a lot longer to get your online business up and running. That is because you will have to go through the process of writing up a proposal, waiting for the freelancers to submit bids, and then selecting the vendor you wish to work with. It will take additional time to converse and complete the project, whereas FIVERR professionals have different packages that you will understand the price up front.
When FIVERR first launched in 2010, it was based on a concept of matching buyers and sellers to gigs that only cost $5. Add-ons could be more, but the neat thing about that price point was that it offered a great opportunity for branding. As a buyer, you knew what to expect, and the freelancers understood also.
Although you can still find plenty of vendors with $5 services (especially new FIVERRS who are building their portfolios and ratings), the prices are now all over the place. This is actually a good thing, because it promotes competitiveness and allows buyers to find services that are within their price range.
Think about everything you need to launch an online business, and you'll find freelancers who can do the legwork for you.
Tip: If you're going to be using FIVERR a lot, sign up for FIVERR BUSINESS. You'll get a dedicated Business Success Manager to help you streamline workflow, so it will give you more time to focus on other aspects of your business.
Or, if you're just trying this freelance gig site for the first time, here's some helpful keywords you can use to get started. Just type any of these keywords in the Search Bar when you first click on the FIVERR Homepage.
LOGO DESIGN. After you come up with a catchy name for your business, hire a Fiverr freelancer to design a logo for your online business.
REGISTER YOUR BUSINESS. Instead of running around town trying to register your business – either as a sole proprietor or an LLC – hire a FIVERR pro to do it for you. There are providers who can do all the legwork of registering your online business in your state, bearing in mind the different legal requirements of each state and with the federal government.
DECIDE WHAT PRODUCTS OR SERVICES TO OFFER. FIVERR freelancers can help you with any aspect of setting up the products and/or services you want to offer clients. The sky is really the limit! If you want someone to design jewelry, fashion design or t-shirts, you'll find them on Fiverr. There are pros who can design packaging with your logo to make it appealing for your customers. Or, if you want to launch a podcast, become a consultant, start a drop shipping business, or get into the health and fitness niche, you'll find almost any type of vendor on Fiverr who can get it set up for you. The next step depends on whether you want to have a product or service type of business.
GET PROFESSIONAL PHOTOS OR DEMO VIDEO. Nothing sells your product better than seeing it! Fiverr has professional videographers, photographers and animators who can showcase your products and services, depending on the type of industry you have settled upon. Your great idea can be brought to life in the most visually pleasing way! For example, you can give a product demonstration on your website by hiring an unboxing video creator, or a doodle video for an explainer video. If you have some tangible products, such as vitamins, apparel, auto accessories, or really anything, Fiverr has professional photographers who can shoot these items on a white background to submit to Amazon, or for your own ecommerce store.
SET UP A WEBSITE. Once you have decided the products and services you need, next you'll need a FIVERR website designer to design a website for you. Give them the logo and decide what type of website you need, such as an ecommerce store, or a WordPress site, mobile app, etc. Tell them how many pages and prepare the necessary content, which you will see in the next step.
GET CONTENT. Writing may not be your forte, but Fiverr has professional freelance content writers who can prepare your website content, product descriptions, catalog writing, blogs, recipes and much more. Another place to grab "ready-made" content is DotWriter, where there are hundreds of articles already written in over two dozen niches. They are professional, plagiarism-free, and ready to post. You can give them to your Fiverr web designer.
LEAD GENERATION. If you are launching an online business for the first time, you may wonder how you will get leads? It appears this is the hard part, since it takes a long time to build up a following and to spread the word about the products or services you offer. However, Fiverr has that covered, too. You can find Lead Generation managers, virtual assistants and email lists that are qualified and scrubbed, which can give you a great 'first step' on your way to getting business.
SET UP AND MANAGE SOCIAL MEDIA. Let's face it, everyone uses social media. It is the most globally used method of spreading information. However, this is something that can be time consuming. Hire a Fiverr writer to deliver social media posts, or even to manage the setup and posting for you. It will save you gobs of time.
These are probably the "must-haves" to launch an online business in one weekend. You can find a wide variety of price points that will keep you within a budget. There are many, many more services on Fiverr. You may find other freelancers that can help you write or create a jingle, a dynamic intro for a YouTube channel, prepare viral videos, give you financial or legal consulting, do your bookkeeping, transcribe recordings, design memes, write a book, and so much more!
So, instead of dwelling about losing your job, getting laid off, or just not having the life of your dreams, make it happen and launch an online business in one weekend (or less). What are you waiting for? JOIN FIVERR FOR FREE, HERE.